REGISTRATION IS OPEN FOR OUR SOUTHWEST ADVENTURE!!
A week filled with New Mexico wonder, co-guided by my husband
John Gritts, a Cherokee artist very much at home in Indian Country.
Sunday, September 3 – Saturday, September 9, 2023.
Come as a couple, come with a friend, come solo!
Our thanks to Kathie Nitz, 2019 guest, for sharing many of the photos below.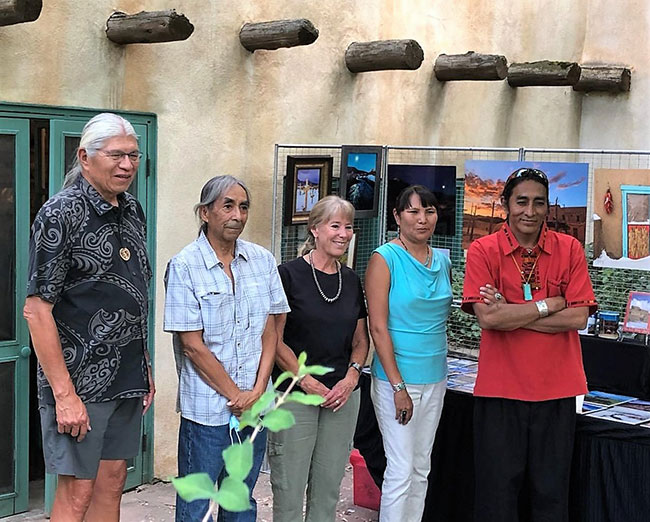 The focus of this 7-day/6-night tour into the cultural heartland of New Mexico will be Native American art, Pueblo culture, the great literary salons of a century ago, the delicious cuisines of the southwest, and a rare and intimate encounter with the horses of Equus.
Please browse the sample itinerary below for an idea of how we'll spend our days.
Details of the agenda may change but our retreat focus will always be on the wonder of the landscape,
the Native American artists, and New Mexico's literary history.
Days 1 and 2, 9/3-9/4: La Fonda on the Plaza, Santa Fe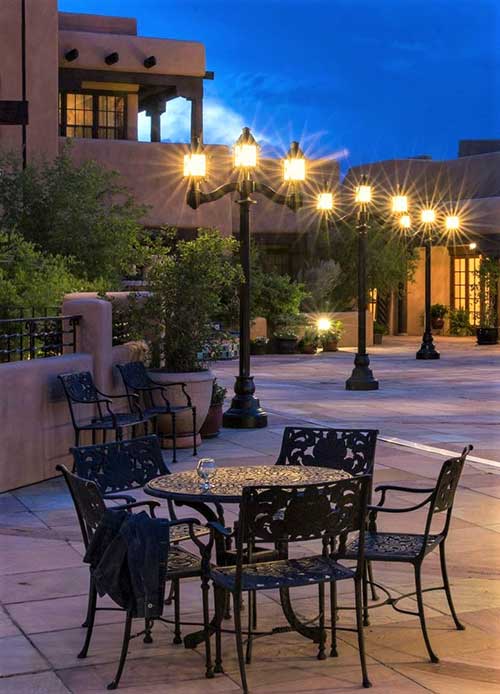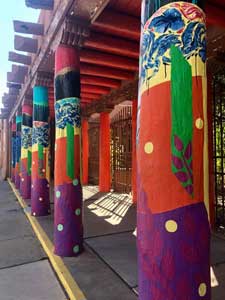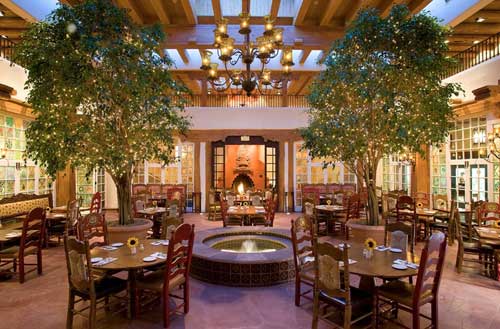 La Fonda's La Plazuela Restaurant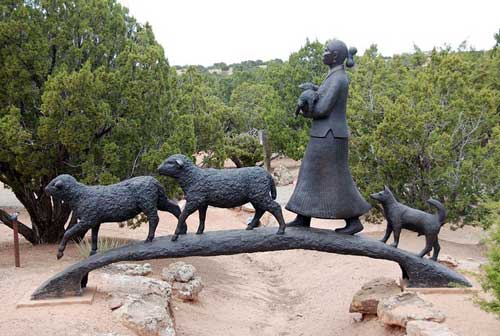 Sculpture by Allan Houser
This seven-day/six-night adventure begins in Santa Fe, New Mexico, where we will rendezvous Sunday afternoon at the historic La Fonda on the Plaza, a Santa Fe's 4-Diamond hotel with old world charm. This will be our home away from home for Sunday and Monday nights, September 3 and 4. 
Monday morning, we will visit a few galleries on the Plaza, browse the art and jewelry displayed by the local sidewalk vendors, tour the IAIA Museum of Contemporary Native Arts, and enjoy lunch at La Fonda's popular La Plazuela Restaurant.
Afternoon will find us on the historic Turquoise Trail, en route to the Allan Houser Sculpture Garden where approximately seventy bronze, steel, and original stone sculptures by American Master Artist Allan Hazous (of the Chiricahua Apache Tribe) are set among lush Juniper Pines and breathtaking mountain vistas. The garden gallery contains four rooms of smaller sculptures, drawings, and paintings. The property is closed to the general public, but we have arranged a private tour.
Other Santa Fe highlights include The Blue Rain Gallery, the Santa Fe Farmer's Market, and a few free hours to visit some of the galleries on Canyon Road. We'll be relaxing with a light lunch at The Tea House. We hope to arrange a tour of Jim Vogel's art studio in Dixon, en route to Taos, our next destination.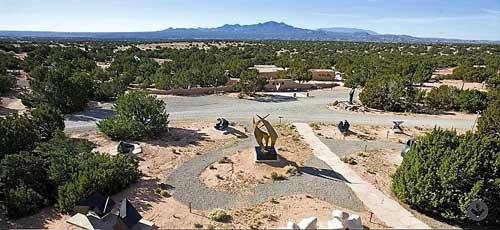 Allan Houser Sculpture Gardens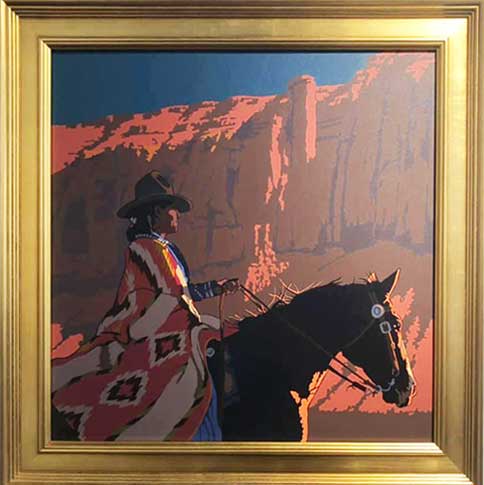 Billy Schenck, Blue Rain Gallery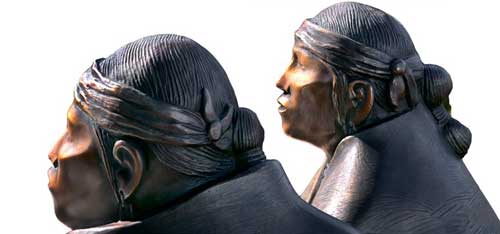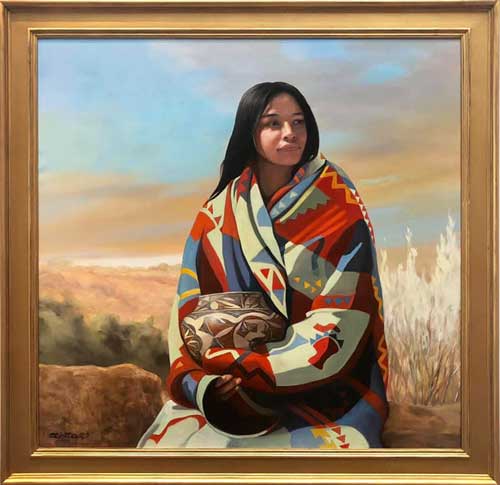 Rosetta Stone, Blue Rain Gallery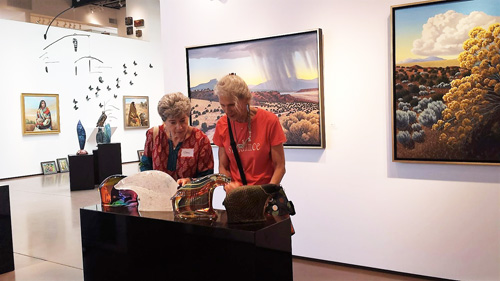 Days 3 and 4, 9/5-9/6: Mabel Dodge Luhan House, Taos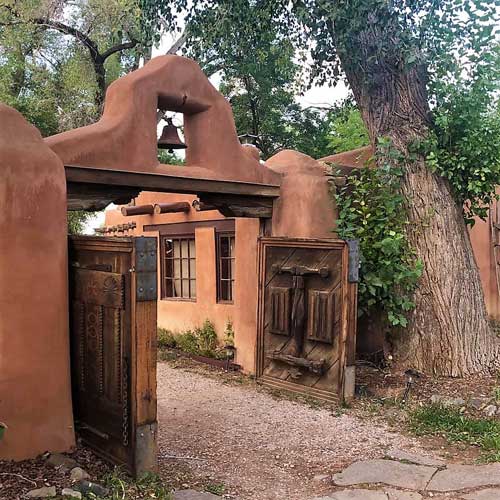 Mabel Dodge Luhan House in early light.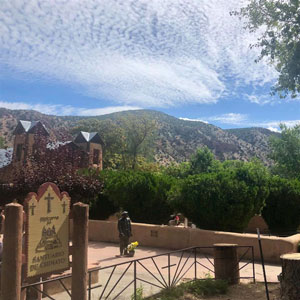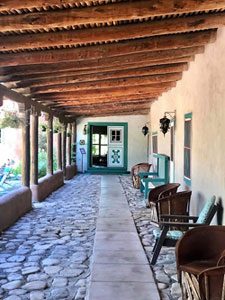 Sanctuary de Chimayo and Mabel Dodge Luhan House Portal
San Francisco de Asis Mission Church
Our second two-night stay will be in Taos at the historic Mabel Dodge Luhan House, where we'll shift our creative focus from art to writing, celebrating the literary colonies of Taos and Santa Fe founded more than 100 years ago. In the spirit of Mabel, we'll have our own literary salon, touching on the writing of Willa Cather, DH Lawrence, Mary Austin, Frank Waters, N. Scott Momaday, and others, with enough retreat time to settle into our own private creative space.
Our stay will also include a tour of the historic Taos Pueblo (assuming the Pueblo is open to visitors), inhabited by more than 150 of the 1,900 Taos Pueblo people who still live on the Taos Pueblo Land, which covers an expanse of 99,000 acres of high desert, and celebrates over 1,000 years of culture. The oral history of the Taos Pueblo People is extensive and an important part of their closely held cultural heritage. If time allows, we will include a visit to the Millicent Rogers Museum before strolling on our own through the main town plaza. We will return to our retreat at the Mabel Dodge Luhan House both nights to enjoy a private dinner prepared just for us by Chef Sophie.
At the end of our Taos stay, we'll stop by the historic San Francisco de Asís Mission Church in Ranchos de Taos before journeying south on the scenic high road to Pojoaque. En route, we will visit El Sanctuary de Chimayó, a small shrine located in the Sangre de Cristo Mountains and visited by thousands of pilgrims during Holy Week. Centuries ago, the Tewa Indians named Chimayo Tsi-Mayoh, after one of four sacred hills above the valley. We will have lunch at picturesque Rancho de Chamayó before driving a short distance to the Hilton Buffalo Thunder Hotel in Pojoaque.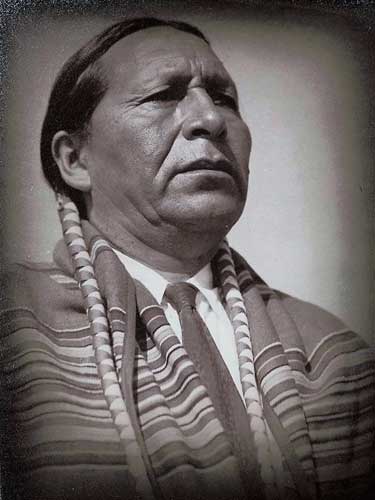 Tony Luhan by Edward Weston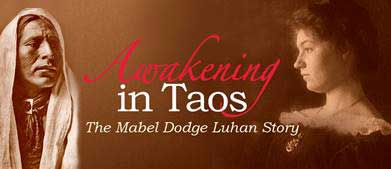 Watch the trailers on the making of the PBS film, Awakening in Taos
"Before arriving in Taos, Mabel Dodge had become a prominent figure in the arts and society of New York City and Europe. Born to a wealthy family in Buffalo, New York, she entertained and supported many of the well-known artists, activists, writers and thinkers of her time. Her Salons were informal gatherings where the olitical and avant-garde joined to dine and to discuss the new ideas of the century, often forming relationships and fomenting ideas which would have far-reaching influences.
When Mabel left New York to settle in Taos and marry Tony Lujan, a full-blooded Taos Pueblo man, the whole world watched. During the 1930s, New Yorker Magazine cartoons quipped about Mabel in Taos, while set designs for Shakespeare productions on Broadway were based on adobe architecture. Georgia O'Keeffe, Willa Cather, Ansel Adams and others found inspiration that would shape their lives' work while visiting Tony and Mabel's home."
(The History of the Mabel Dodge Luhan House, Attiyeh Foundation)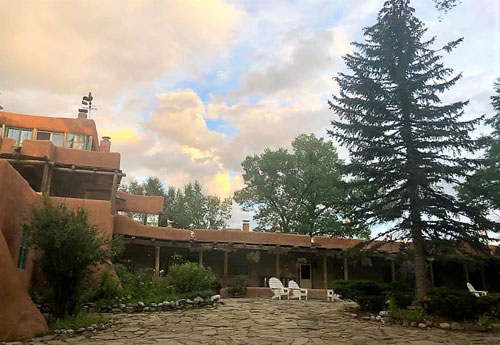 Days 5 and 6  – 9/7-9/8: Buffalo Thunder, Pojoaque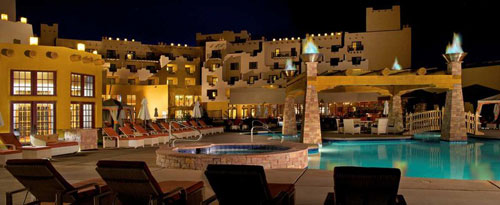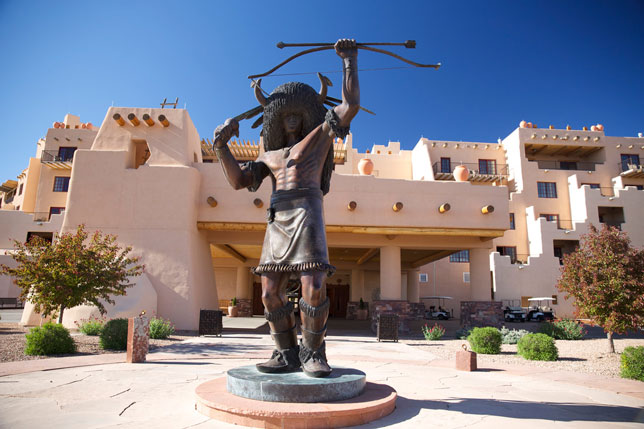 Buffalo Thunder and Rivera bronze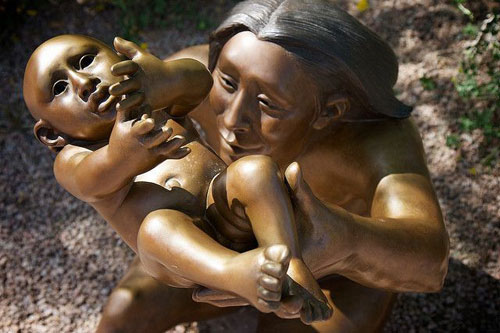 We will spend the last two nights of our seven-day adventure at the luxurious Hilton Buffalo Thunder Resort (just 15 miles north of downtown Santa Fe) on the sovereign Native American land of the Pueblo of Pojoaque, or Po-suwae-geh Owingeh. meaning "water gathering place."
After our lunch at Rancho de Chamayó, our next stop will be the Poeh Cultural Center, where we will tour lifelike dioramas depicting scenes of the ancient ancestral Puebloans. We will also have the privilege of viewing 100 ceramic pots that have been stored for more than a century in a Smithsonian storage vault in Maryland. "The People's Pots" (or "In T'owa Vi Sae'We"), returned home to Tewa lands last year. For the people of the Pueblos of Ohkay Owingeh, Nambe, Pojoaque, San Ildefonso, Santa Clara and Tesuque, the return of the pots is cause for great celebration. "To Tewa breath," said Pueblo of Pojoaque Governor Joseph Talachy, "and to Tewa hands."
On Day 6 we will tour Bandelier National Monument, once home to the Ancestral Pueblo People, with renowned Santa Clara Pueblo artist Roxanne Swentzell as our guide. With Roxanne leading us, we will walk on easy trails among cottonwoods, and on the moderate Main Loop Trail that winds through the historic site, leading us to alcoves and ancient dwellings.
After our tour of Bandelier, we'll drive to San Pedro (on Santa Clara Pueblo land) for a Pueblo Eating Experience with Chef Ray Naranjo, also of Santa Clara. Roxanne will join us, sharing more about the indigenous foods of the Pueblo people "before contact."
Late afternoon will allow time back at the Buffalo Thunder Hilton to relax, enjoy the pool, or browse the curated art exhibits before our final dinner.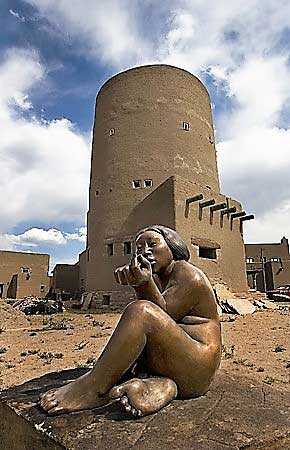 Roxanne Swentzell Sculpture,
The Tower Gallery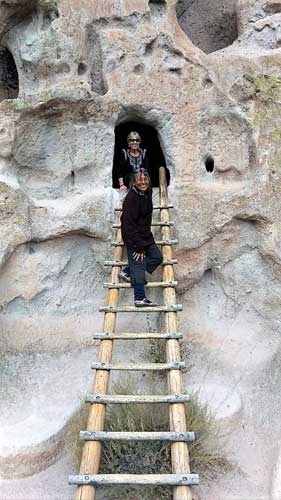 Roxanne Swentzell and Page Lambert, Bandelier National Monument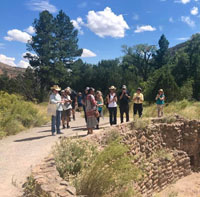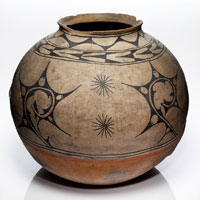 NMAI Pot at Poeh Cultural Center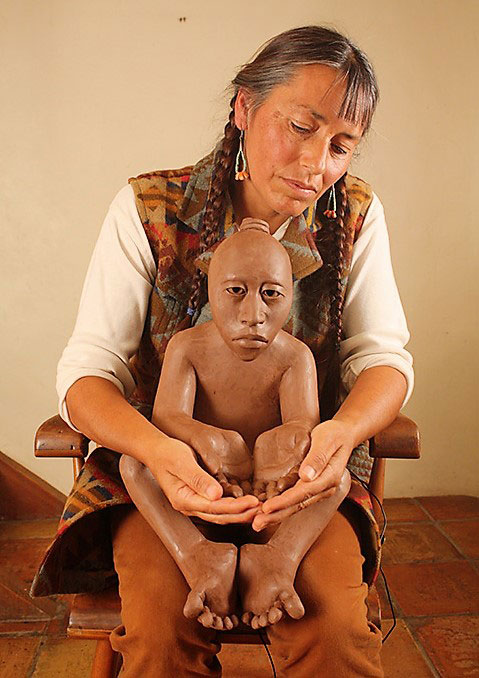 Day 7, 9/9: The EQUUS Experience®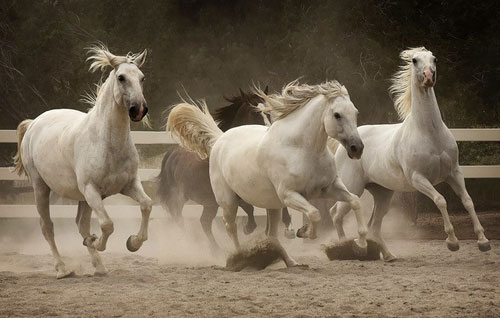 EQUUS Experience horse partners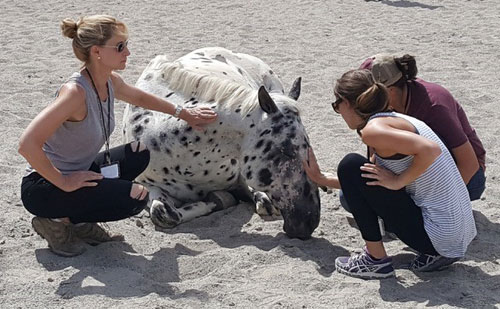 EQUUS Experience horse partner and clients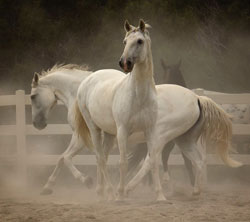 EQUUS Experience horse partners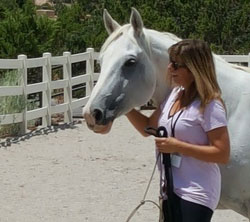 EQUUS Experience horse partner with client
We'll enjoy a relaxing morning on our own at Buffalo Thunder, perhaps wandering through the lobby and hallways of the Buffalo Thunder enjoying the curated sculptures and paintings from contemporary Pueblo artists. These works include sculptures by Roxanne Swentzell, and a stained-glass centerpiece by her daughter Rose B. Simpson.
Our final adventure, the culminating highlight of the retreat, is an inspired two-hour private EQUUS Experience® at nearby Thunderbird Ridge with Master Equus Course Director Kelly Wendorf. The EQUUS Inspired Experience is a horse-assisted self-empowerment program of international acclaim. Featured in Forbes, Vogue, Presence, etc., this five-star experience engages "partnership with horses to inspire discovery and insight in individuals, families and organizations in a joyful, memorable yet powerful way."
Director Kelly believes that "the challenges people face in the 21st century require attributes such as wisdom, awareness, intuition, mindfulness, responsiveness, attunement and presence so they can live and work with meaning and deep purpose."
The EQUUS philosophy emphasizes the unconditional and positive regard we should have for all places, peoples, creatures and circumstances. "We express this wherever we are, with a respect, reverence, care and connection to the place we are and everyone who is present. We bring along the epic histories and lessons taught us by Elders of Original Peoples from around the globe to share, teach and continue powerful experiential conversation with open life-changers, leaders and thought leaders. We acknowledge and pay deep respect and gratitude to the traditional carers, elders and ancestors — past, present and future of the land on which we work."
John and I are grateful to Kelly for enabling us to offer this extraordinary experience to our retreat guests. It promises to be a remarkable and memorable morning.
Following our EQUUS Inspired Experience, we will drive a short distance back to Santa Fe, where we will bid each other farewell, bringing our adventure to a close around 1:00 pm.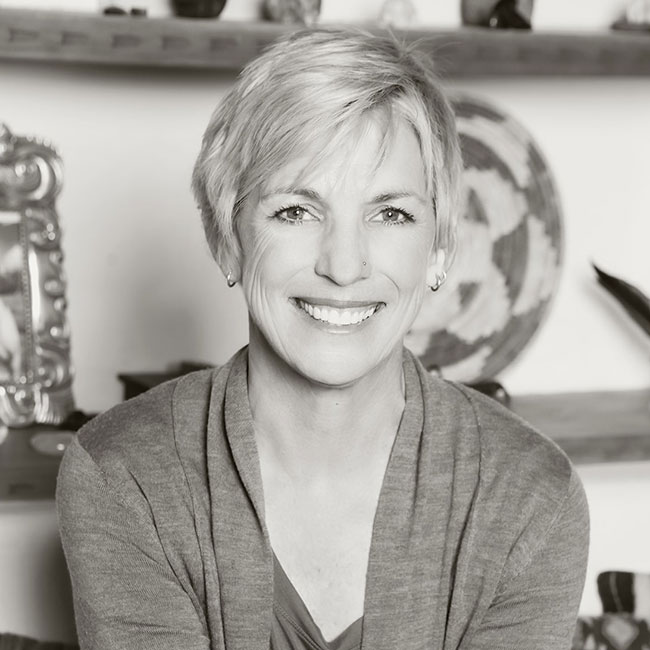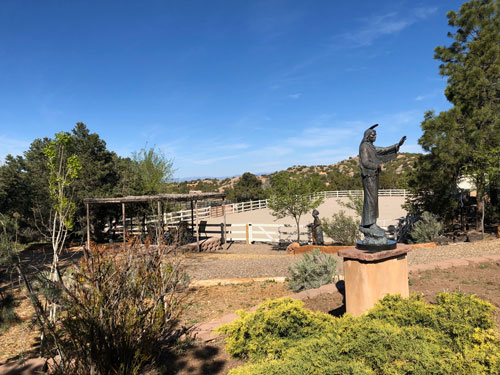 John and I look forward to sharing this adventure with you!
Santa Fe & Taos Autumn Sojourn: Sacred Lands, Sacred Words, Sacred Art
Total Cost
The $3,499 per person retreat fee includes six nights of shared lodging (double occupancy): the first two nights at Santa Fe's La Fonda on the Plaza, the next two nights at the historic Mabel Dodge Luhan House in Taos, and the last two nights at the Hilton Buffalo Thunder Resort (also Native-owned).
Also included are all museum, gallery and Bandelier park fees; carefully chosen dining experiences at select restaurants featuring the best southwestern and Pueblo cuisine; a private day with Santa Clara Pueblo artist Roxanne Swentzell; the five-star EQUUS Experience; and all transportation once you arrive in Santa Fe (John Gritts, my husband, will be our van driver and co-guide extraordinaire).
Transportation to Santa Fe
Please make your own travel arrangements to New Mexico. Please plan on arriving in Santa Fe by 4pm, or sooner. Here are a few options:
Fly into Albuquerque and take the New Mexico Rail Runner train (69 miles, approximately $18 round trip; take the Airport Express bus/train connection);

 

http://nmrailrunner.com/ (Rio Metro Regional Transit District)
Fly into Albuquerque and take the Sandia Shuttle (Groome Transportation) to Hotel Santa Fe (approximately $35 one way) 505-474-5696  https://groometransportation.com/santa-fe/
Fly into Albuquerque and arrange Albuquerque airport shuttle service to Santa Fe through World Travel Management (505) 913-9627

 

http://wtmllc.com
Fly directly into Santa Fe Municipal Airport (10 miles from downtown), and contact Uber, Lyft, or the Professional Driving Shuttle (505) 365-8029 ($15/one way).
Payment Schedule/3 Installments
A $499 non-refundable deposit is due with registration. It is recommended that you register as soon as possible (prior retreats sold out quickly). Please consider purchasing trip insurance. We find Insure My Trip to be a good resource for travel insurance.  A second deposit of $1500 is due May 1st. The third and final deposit of $1,500 is due July 1. Unless paying by personal check, a PayPal charge of .032 percent will be added. Please download and read the Payment & Cancellation Policy.